Photo Credit: Stefano Ruschetta
Chasing Your Passion: Moving from Milan to Study in Whistler
An International School Experience
WAS Student Series
Not on our News List? Subscribe here.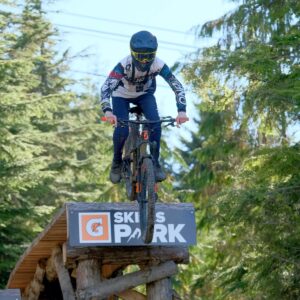 Where the valley meets the mountains, and the lakes stretch on for as far as the eye can see, you'll find the hidden gem of British Columbia; Whistler. 
After graduating university, I spent two years working as an Engineer for a factory in Milan. I felt like a cog in a machine, trapped in a repetitive cycle, where work took over and my passions began to die out. I was ready to step out of my comfort zone and take on a challenge. While I was researching Canada, I stumbled upon Whistler Adventure School and knew this was what I wanted to do. I was drawn to adventure and new experiences, like snowboarding and biking in a landscape I'd never encountered before, which is exactly what WAS offered. Their courses gave me the opportunity to come to Whistler on a student visa, which meant I could study and work in this beautiful place. 
I started off the year by completing a bike mechanics course with the school, which was a great way to meet new people and build skills. The course was fun and taught me so much about bikes. I managed to find a job straight away as a bike mechanic, thanks to the skills I learnt at the school, which set me up for an awesome Summer in Whistler. Chris, a very well-respected bike mechanic and expert in all things bikes, was a wealth of knowledge, and was so passionate about what he did and sharing this knowledge with us. He always gave us his time and answered our questions, and could talk for hours on any topic bike related. 
The course introduced me to the world of biking, and I got a pass to the Whistler bike park, which has unmatched terrain, and some of the most incredible trails I've ever seen. Whistler is one of the biggest bike parks in the world. There's endless possibilities and you can learn more here in one season than you could spending years in other bike parks, so it was a huge privilege to ride here and spend time improving my skills and taking on more challenging trails with new friends. 
The highlight of the Summer bike season was definitely Crankworx. This was an incredible, once in a lifetime experience to have so many professional riders all in one place, demonstrating their insane skills in the bike park. How many people can say they got to chat with pro riders on their lunch break while going up the bike park chair lift? The whole town was buzzing with such a great energy, and it was awesome to see so many like minded people together. 
To get a chance to be as close to the action as possible, I volunteered and got to watch some of the most impressive riding I've ever seen. A huge highlight for me was getting to watch the training for the Redbull Joy Ride and having the opportunity to chat with the athletes between riding, seeing their insane jump skills and courage firsthand. I also got the chance to watch the Wipe Off. It was so impressive to see such a huge crowd of dedicated bike fans there to watch the race, as we all had to hike up a grueling trail to get to it. It was an incredible moment to be with hundreds of people with the same passion as me. It was something you'd never see in Italy where I'm from and was an awesome feeling.
Studying and living here in Whistler also gave me the opportunity to explore what British Columbia has to offer. I camped with friends I made from school, and we got the chance to hike up Panorama Ridge, which had one of the most gorgeous views over Garibaldi Lake. 
I also took a trip to Vancouver Island, and spent time in the surf town Tofino, which has always been a dream of mine. The scenery here was like something I'd never seen before, and I felt super lucky to have the opportunity to visit. I had dreamt of being in the mountains one day, and surfing on the beach the next, and the island truly delivered. 
Between traveling, and working as a bike mechanic, I took a trail building course. This course is one of the best courses available at the school, and I really enjoyed how hands on it was. We were building and improving real mountain bike trails in Whistler that people will get to use and enjoy, which gave me a real sense of achievement. We got to work with Dan, who is a professional trail builder, and an expert in his field, which was a real privilege.  He taught us so much about how to build trails and shared his passion for trail building with us, which was infectious. This course gave me the skills and confidence to tackle trail building in the future, and is something I'd love to do one day, perhaps back home. 
While Summer is coming to a close, which is sad for some, to me, this just means more adventure on the way. With the temperatures dropping, and the first dusting of snow on the mountain, I can't wait to start my snowboarding production course in Winter and enjoy another awesome season in Whistler!
Live, Learn & Play with Whistler Adventure School
#WhistlerEDU #LiveLearnPlay
YouTube | Facebook | Instagram