Epic Summer. 🌞 Epic Biking. 🚴🏼
What an epic summer! Biking trails are open, the Whistler Blackcomb Bike Park is open. The sunny days are endless. 🌞
We've heard from many of our students (and potential students!) that they'd love to hear more from our students currently enrolled. So here it is! Below we have a Q & A from Alessandro, who is taking the Bike Guide Training Diploma at Whistler Adventure School.
Even though we're still in the middle of biking season, the Ski & Snowboard season is approaching fast…⛷️ 🏂
If you're interested in the WAS Ski & Snowboard Guide Training for 2021/22, Applications must be received and deposit paid before September 1, 2021 for International students requiring study permits in order to be accepted into the program for this year.  So don't delay!  Time to live the winter of your dreams! APPLY HERE.
Make sure to Contact Us! Our advisors can help you with any questions you may have about our programs, travel, quarantine, and of course the epic Whistler lifestyle.
Bike Guide Training
Choose a career in the Bike Industry!
Alessandro is a student currently enrolled in the Bike Guide Program (BGT). He is close to graduating and we wanted to chat with him about his experience in the program and in Whistler.
Why did you decide to come to WAS/Whistler?
"That's a long story, but I'll make it short :), Two years ago we decided, me and my partner Irene, to change something in our life, and we started a project called YESWECAN, after two months of scouting we decided that Canada would have been our destination. But unfortunately, something bad happened all over the world and COVID-19 changed everything. No more opportunities to travel and all borders closed. Our project was still on, and we persistently continued to look forward and make it better. Therefore, we made another life changing decision: my future career would have been connected to my passion for the outdoors, instead of working as an engineer or similar. To conclude, with the help of google. We found WAS and we are glad we did. Because, we are living a dream now!
What Program are you taking?
"I've decided to follow the MTB bike guide program. Which is a 6-month program that launches you inside the MTB industry at light speed. I've never seen anything like this before."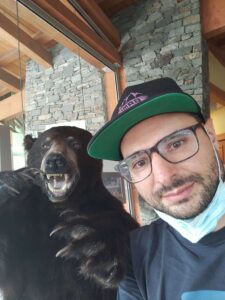 What is your favourite thing about living & studying in Whistler/Squamish?
"I live in Squamish, and work in Squamish and Whistler too. My favourite thing is living close to the mountains and the trail is awesome. I love exploring. Here I can ride different trails every day."
What kind of job(s) are you currently doing and how do they relate to your training?
"The MTB bike guide program will launch you in the bike industry fast. I am working as a MTB guide and MTB coach for three different companies in Squamish and Whistler. Whistler Eco Tours, Ride HUB and Sea to Sky Adventure Company. I choose not to be related to only one company because this will give me the opportunity to understand and learn different approaches for similar business. In addition, I can have more available shifts as a coach or guide."
Anything else you want to add about your experience, life in Canada – things you
think people may be interested to know?
"Before leaving my home, I was afraid about supporting my experiences financially. I have found a strong and dynamic job market. So, don't be afraid, you will easily find a way to sustain your experience."