Exploring Whistler by Bike
If you love biking, Whistler is your place!
WAS Student Series
Not on our News List? Subscribe here. 
At Whistler Adventure School we have the extreme privilege to have students from all scholastic disciplines from all around the world. Dani, a Marketing and Media Manager student form the USA shares her knowledge of how to get around by bike, where to go and some tips on living in Whistler!
Explore Whistler by Bike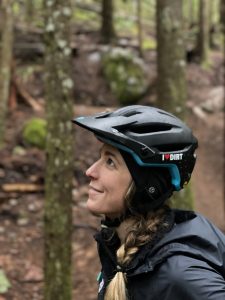 If you've landed in Whistler for the summer season, you're in for quite a treat. Whether mountain biking brought you here, or maybe it's just an added bonus, Whistler is world-renowned for its biking scene. Even if you simply want to use two wheels to commute to class, work, and play, the epic Valley Trail system makes getting around town simple. To help you navigate the trails during your first summer in Whistler, we have a breakdown of all the fun you can have on two wheels. 
Commuting by Bike
One of the many incredible aspects of living in Whistler is the ease of getting around town without a car. While the local transit system is simple and efficient, commuting on two wheels is even easier. With the large and easy to navigate Valley Trail System, you'll be able to get to anywhere you need via bike. Bike racks are located all over town, making it easy to find a place to lock your bike up while you're at work or taking in the sights of the village. The Valley Trail network links all of Whistler together making it great for commuting, but it's one of the best ways to explore Whistler. Getting off the road and being able to wind through the forests and valley floor of Whistler opens up your view of what Whistler has to offer: waterfalls, parks, rivers, and lakes. To help plan your bike routes in and around the village, we've included a PDF map of the Valley Trail Network.   
Downhill Biking
A downhiller's dream, Whistler Mountain Bike Park is one of, if not the best in the world for mountain bike enthusiasts. There is terrain for all skill levels, from beginner to professional, so this is a great way for anyone to start their journey on two wheels or increase their existing skill set. The park has over 80 kilometers of trails to ride and 5 lifts to access Whistler Mountain, so it's easy to never lap the same trail twice. Let's be honest though, you're going to want to (as seen here)! 
 With the park being open from May to October, this is a great opportunity to hit the trails between work and school all summer long. For advanced riders, you'll want to make sure you get at least one day taking in the full experience of the park via the famous Top of the World trail starting at Whistler's summit. You'll descend more than 5,000 vertical feet down to the base of the park, and it's truly an epic experience. To help plan your rides and figure out what trails will best suit your level and style of riding, you can learn more about the different zones of the park zones.
Cross Country and Enduro Biking
If you love XC riding, the Lost Lake trail network is an incredible introduction to trail riding in Whistler. Perfect for beginner and intermediate riders, this is a great way to get a feel for what Whistler has to offer outside of the bike park. The Lost Lake network is mainly comprised of winding double track trails made of pea gravel and technical single track trails. The beauty of this system is the two types of trails overlap each other, so it's easy to duck back and forth between the two. This is great for those either wanting to step-up the challenge and hop on singletrack, or make for an easy exit if you get tired from technical riding. We recommend downloading the Trail Forks app on your phone before you venture into the Lost Lake trail system. While a perk of Lost Lake is the overlapping trail network, the flipside of is the capacity to get off route. The live GPS location on the Trail Forks app will make biking around Lost Lake and the Valley much easier.
After you've tested your skills on Whistler's XC network, try out the bigger climbs and descents of Whistler's network of singletrack trails climbing out of the valley floor. They are made by world class trail builders and offer some of the most technical riding in the world. These trails are for intermediate to advanced riders and will definitely test your skills on the bike. You'll want to make sure you're competent with your riding skills before trying these out, or at least have the self-awareness to back down from a feature if it's over your pay grade. Whistler is known for dosing out humble pie, so just keep it all in perspective, you're riding some of the most difficult trails in the world. You can check out the different zones of Whistler on Trail Forks to find the best rides to suit your style. 
Get Involved 
Moving to a new area can be difficult if you're unsure of how to get involved in the local community. Luckily, Whistler is made up of a lot of people who have been in your shoes, so they understand the desire to get connected with like-minded people. If mountain biking is your passion, one of the best ways to expedite this is getting involved in any of the volunteer opportunities or participate in the many events Whistler offers.  
WORCA 
The Whistler Off Road Cycling Association (WORCA) is one of the largest and most engaged bike associations in the world. There offer opportunities to volunteer at any of their hosted events, or participating in dig days to help maintain the trails. There are two weekly events hosted by WORCA: Toonies and Phat Wednesdays. 
Don't know what a Toonie is? Well, first off, it's Canada's $2 coin that you'll commonly use when you come visit Whistler. For the purposes of biking, it's the local Thursday night ride sponsored by WORCA. If you want to join up with Whistler locals on a mapped route for a ride (or race), this is your night. You'll need a WORCA membership to join in the fun, which is greatly appreciated, as the funds go directly back into maintaining the world class trails you'll enjoy while you're in Whistler. 
If you prefer lift access over biking up to your descent, you can join in Phat Wednesdays for a fun race atmosphere and a lot of camaraderie. Known by the locals as World Cup Wednesday, you can try your hand at a timed downhill run through the Whistler Mountain Bike park. You'll be able to compete against amateurs and pros alike in a low key race atmosphere. Just like the Toonies, you'll need a WORCA membership to enter.
Crankworx Bike Festival
Imagine 10 days of world class events, covering multiple disciplines of biking, and the most incredible mountain-town energy you can think of. This week is one non-stop party for mountain bikers you won't want to miss! You can sit back and watch the pros compete, or join in any number of the open events such as the Women's Only A-Line Session or the Garbo DH Race. Crankworx is also a great opportunity to volunteer and be a part of the Whistler biking community. If you are taking courses in event planning, photography, or videography, you'll have the possibility to apply the skills you learn in the classroom to different volunteer opportunities at a world class biking event.
Women's Nights on the Mountain
If you're a female looking to learn skills on the bike, the Whistler Mountain Bike Park hosts a women's series on Monday and Wednesday nights throughout the summer. This is an opportunity to mesh learning skills and socializing with like minded women. You will be in a group with similar skill levels, so you can advance together. You can learn more about the GT Women's Night.
We hope this helps you navigate the biking mecca of Whistler and find your niche in the community, or simply help you understand the lay of the land for commuting.